ASU Men's Basketball:
Pioneering Excellence in Collegiate Facilities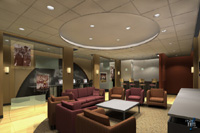 In true Sun Devil fashion, the men's basketball team continues to raise the bar for excellence, on and off the court. Head Coach Rob Evans and his staff, recognizing the importance of world-class facilities for their student-athletes, are excited about the upcoming, state-of-the-art renovation of their locker room and administrative offices. The vast improvements, currently in the final planning stages, are consistent with the vision for an evolving, socially responsible, innovative urban university, as championed by Dr. Michael Crow, President of ASU.
"ASU is poised to be the first university to usher in a new concept in collegiate athletic facilities," says Crow. "Sustainability is not just about using recycled materials, it's about conserving resources on every level."
Visit Gallery for More Images

Designed by ASU graduates, Theresa Camp Dorlini and Dawn Leuzzi, of Acoustics.com's Design Division, the new facilities combine environmentally friendly, "green" design with the latest in innovative technology. The goal is to provide athletes and coaches with a comfortable, user-friendly space specially designed for maximum productivity.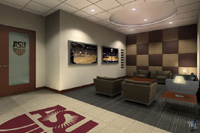 "Just as a team collaborates on the court, our design emphasizes collaboration between innovation, functionality and
environmental responsibility," says Leuzzi.

According to Gene Smith, Executive Director of Athletics, "Once the athletes and coaches experience the impending improvements, anything less will seem inadequate."
While environmentally sensitive, technologically advanced facilities are starting to emerge in professional organizations, such as the Detroit Lions, who moved into their "green" headquarters in April of 2002, ASU's project is setting the standard for collegiate facilities. This newly designed space will also contribute to the team's success in the future, as potential recruits will appreciate the many modern conveniences, sleek styling and comfortable furnishings.
"In order to ensure that our athletes are putting forth maximum productivity on the court, we need to focus on their needs off the court as well," says Coach Evans. "This extra attention is one of the factors that will set our program apart from the rest."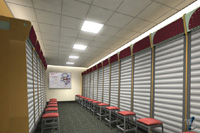 One of the most exciting elements of the new facility is the introduction of the X Locker™, a revolutionary personal storage system, created by Industrial Designer, Randall Stultz. The X Locker is the first of its kind with features including:
Motorized door with a silent motor, which helps create an acoustically friendly environment

Personal lockable drawer, ensuring two layers of security

Integrated ventilation system, which eliminates odor and moisture

Computer control-panel facilitates a personalized touch screen combination, custom screen saver, computerized communication from coaches and staff, upgradeable hardware/software, and more
From the project's inception, ASU officials were confident that the renovated space would live up to the high expectations of an elite athletic program and reflect a commitment to sustainability. This effort is the first step towards solidifying the ASU men's basketball complex as one of the premiere facilities in the country. Every detail, from the flooring to the acoustic insulation, has been carefully chosen to fit into the overall design concept. Some sustainable features included in the design are: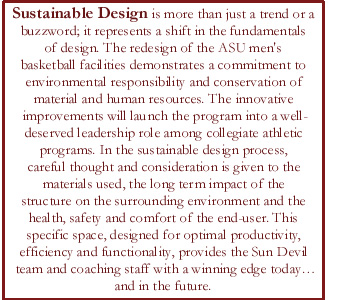 Recycled/sustainable materials, such as fabrics, carpet and bamboo flooring

Energy efficient lighting with dimmable fixtures
Careful space planning to ensure maximum efficiency and comfort
Appropriately sized furniture/fixtures to meet the unique needs of basketball athletes
Recycled cotton acoustic insulation, an alternative to fiberglass (find out more about this product at: www.acousticotton.com)
Low (to zero) VOC paints
Low-flow water fixtures
Anti-bacterial/microbial finishes

Sensor lights/smart lighting
Recycle bins
Another unique feature of the improved ASU Men's Basketball facility is the acoustic environment of the space. Acoustics and sustainable design are interconnected on a variety of levels. Anyone who has been in a locker room knows that they are rarely considered quiet spaces. Research proves that noise negatively impacts our ability to focus and can even be detrimental to our health. Headaches, tinnitus, hearing loss and digestive problems are just some of the health problems associated with excessive noise exposure. In addition, common products used to address acoustic issues often compromise the environmental integrity of a space. Camp and Leuzzi opted to use AcoustiCotton™ (an alternative to fiberglass insulation), which is composed of 100% recycled cotton. This product is safe for the installers and the end-users, and performs just as well, if not better than traditional products. Once the improvements are complete, players and coaches will notice the difference in the acoustics of the locker room. Distractions due to noise will be reduced, helping the players focus on the task at hand, rather than the slamming of locker doors and the echo of nearby voices.
The staff and team are scheduled to move into their new facilities in Spring 2003. While construction is underway, designers are collaborating with University officials to encourage alumni, boosters and other ASU supporters to champion this monumental effort. This is an exciting opportunity to be a part of ASU history. For more information on sponsorship, contact Stephanie Grinage, Associate Athletic Director, at 480.727.7711 or sgrinage@asu.edu.


Visit Image Gallery
In the News
View Fox Sports Arizona Teasers
View Fox Sports Arizona Story
---
Comments, feedback or questions
design@acoustics.com